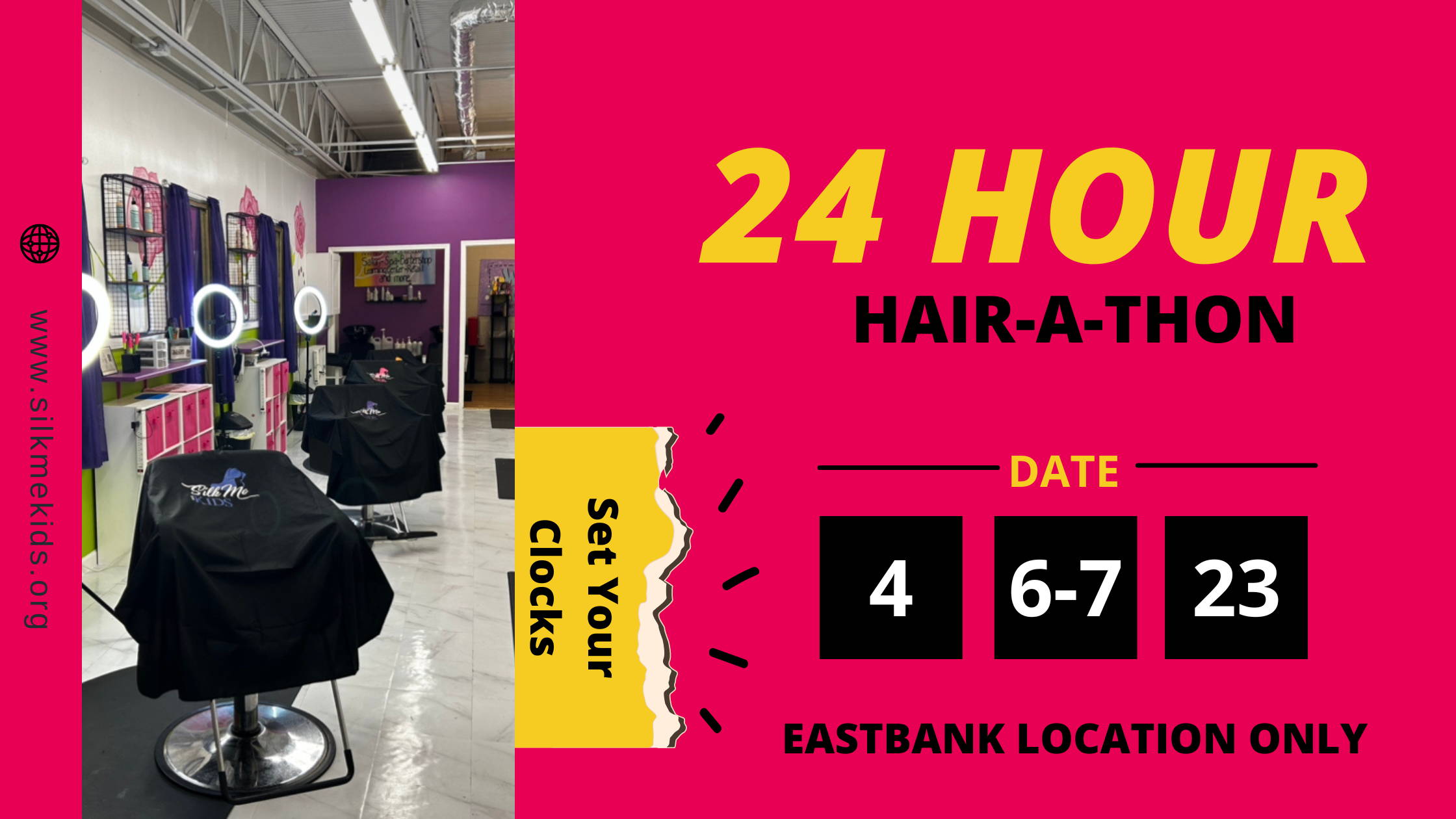 DATE: APRIL 6-7
TIME: 1PM - 1PM
SERVICES ARE AVAILABLE FOR BOTH KIDS AND ADULTS.
NO KIDS WILL BE SERVICED BETWEEN THE TIMES OF 8PM AND 6AM.
ALL APPOINTMENTS ARE TO BE BOOKED ONLINE. BOOKING CAN BE DONE ON THE STYLIST PERSONAL SITES OR THE SILK ME KIDS EASTBANK LOCATION SITE.
DEPOSITS ARE REQUIRED FOR ALL SERVICES BOOKED. IF BOOKING SITE DOES NOT PROMPT YOUR FOR DEPOSIT, AN INVOICE WILL BE SENT. MUST BE PAID WITHIN 24HRS OR APPOINTMENT IS SUBJECT TO CANCELATION.
HAIR MUST BE DETANGLED PRIOR TO SERVICE. IF DETANGLING IS NEEDED, PLEASE BOOK WITH YOUR SERVICE BEFORE HAND.
IF YOU ARE LOOKING TO BOOK MOMMY AND ME APPOINTMENTS AT THE SAME TIME, PLEASE STILL BOOK EACH APPOINTMENT BACK TO BACK SO THE TIME CAN BE BLOCKED OUT FOR THE SERVICES.
WE HAVE A NO REFUND POLICY, ALONG WITH A CANCELATION POLICY. APPOINTMENTS CAN ONLY BE CANCELED AND NOT RESCHEDULE FOR ANOTHER DAY. DEPOSITS ARE NON-REFUNDABLE AND NON-TRANSFERABLE.